Video Door Phone (VDP) Solutions: Elevating Home Security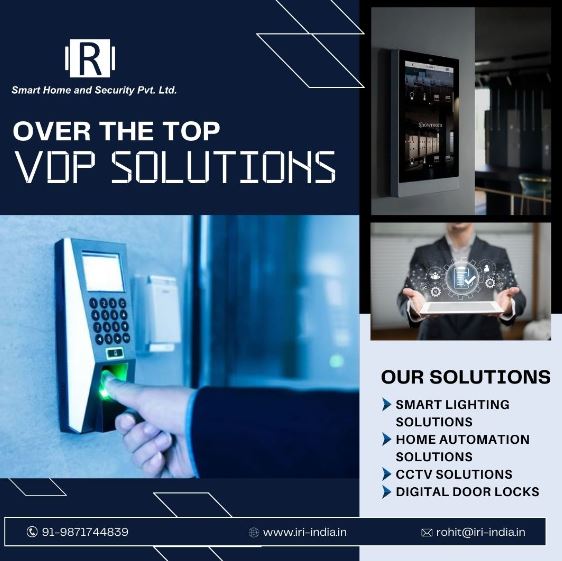 Video Door Phone (VDP) Solutions: Elevating Home Security
In the ever-evolving world of home security, Video Door Phone (VDP) solutions have emerged as a cutting-edge technology, redefining the way residents in Ghaziabad, Uttar Pradesh, safeguard their homes. At IRI India, we take immense pride in offering state-of-the-art VDP solutions that not only provide unparalleled security but also add convenience to your daily life. In this comprehensive guide, we will delve into the world of VDP systems, exploring their features, benefits, and how they are revolutionizing home security in Ghaziabad.
Understanding Video Door Phone (VDP) Systems
What is a Video Door Phone (VDP)?
A Video Door Phone, commonly known as VDP, is a sophisticated home security device that combines a doorbell with a two-way communication system and video surveillance. It allows homeowners to visually and audibly communicate with visitors at their doorstep from the comfort of their living rooms or even remotely through a smartphone app.
The Components of a VDP System
A typical VDP system comprises the following components:
1. Outdoor Camera Unit: This is installed outside your front door and includes a high-definition camera and a microphone for capturing video and audio of visitors.
2. Indoor Monitor: Placed inside your home, the indoor monitor displays live video feed from the outdoor camera and facilitates two-way communication.
3. Door Unlocking Mechanism: Many advanced VDP systems come equipped with an electronic door lock control, allowing you to remotely unlock the door for trusted visitors.
4. Mobile App Integration: Modern VDP systems offer mobile apps that enable remote access and control, enhancing security and convenience.
The Advantages of Installing a VDP System
Enhanced Security
One of the primary reasons homeowners in Ghaziabad are turning to VDP systems is the heightened security they provide. With a VDP in place, you can verify the identity of visitors before granting them access to your property, significantly reducing the risk of unauthorized entry and potential threats.
Real-Time Monitoring
VDP systems allow you to monitor your doorstep in real-time, even when you're away from home. Whether you're at work or on vacation, you can use the mobile app to check who's at your door and communicate with them, giving the impression that you're always present.
Convenience and Peace of Mind
VDP systems offer unmatched convenience. You no longer need to rush to the door when the doorbell rings. Instead, you can calmly assess the situation through the indoor monitor or your smartphone. This added peace of mind is especially valuable for families with children or elderly members.
Deterrent to Intruders
The mere presence of a VDP system can act as a deterrent to potential intruders. Criminals are less likely to target homes with visible security measures, knowing that their actions are being recorded.
Why Choose IRI India for Your VDP Needs
At IRI India, we are committed to delivering the finest VDP solutions in Ghaziabad, U.P. Our products stand out for several reasons:
1. Cutting-Edge Technology: We stay ahead of the curve by offering VDP systems with the latest technological advancements, ensuring top-notch performance and reliability.
2. Customized Solutions: Every home is unique, and so are its security requirements. We provide tailored VDP solutions that cater to your specific needs.
3. Expert Installation: Our team of skilled technicians ensures that your VDP system is installed seamlessly, guaranteeing optimal functionality.
4. Exceptional Customer Support: We take pride in our after-sales service, providing prompt assistance and maintenance to keep your VDP system in perfect working order.
In conclusion, Video Door Phone (VDP) solutions by IRI India are reshaping home security in Ghaziabad, U.P. With advanced technology, enhanced security, and unbeatable convenience, our VDP systems are the pinnacle of modern home protection. Don't compromise on your safety – choose IRI India for the ultimate VDP experience